Healthy and innovative recipes for kids by Rakshita Dwivedi
Hi guys, as yesterday was Children's day, we are celebrating this week as Children's health week and bringing in experts. Today's expert is Rakshita Dwivedi.
Rakshita is the founder of Recipe Dabba, a place for healthy choices. Recipe Dabba is an outcome of Rakshita's passion, interest and skills and this six months old venture of hers has been one of the most loved thing happening in Navi Mumbai. While her workshops designed for young kids are trying to break the stereotypes and helping kids learn cooking as a life skill, the DIY kits are preparing them for a holistic way of looking at culinary art.
Rakshita's inspiration is little Medhansh, her baby, who is her biggest critic too.
We had a chat with Rakshita today and asked her a few questions about children. Here is what she had t say:
Me: Hello Rakshita. You conduct so many workshops for children. What is your experience of cooking with them?
Rakshita: Children by far are much more adaptive than we adults and that is why I love working with them
They are receptive and at the same time curious to know more and explore more. Though when it comes to food they do come with pre-choices but that's only because they haven't given themselves time to develop taste for a certain thing. Once they are made responsible and are appreciated they can do wonders with food.
Me: What are the myths that parents have regarding food and children?
Rakshita: Parents have many myths like "children don't like healthy food", "being picky is natural to all kids", "kids are too young to cook" and so on and so forth.
All these are our ways of justifying certain actions. If a child doesn't know how to read..we take efforts to teach them..same is true for food. It has to start very early…the more food textures they get exposed to, the more developed palate they would have. They eat with eyes first and you need to make it attractive. They aren't conscious about nutrition but why would they not eat anything tasty? While junk is overloaded in our system, reaching out to it is as easy. Hence you as a parent have to be mindful of making them reach a healthier version.
Me: Anything you would like to say to the parents?
Rakshita: Kids' food demands and appetites are different than us. We need to help them understand themselves, appreciate their choices and motivate them rather than making food a rule-book which essentially no human follows. Neither you..nor me 🙂
So true, we break the food rules all the time….
Here are some of Rakshita's innovative and healthy recipes for kids. Children get bored easily and want variety all the time. These recipes will definitely come in handy at such times. So let's check out the recipes.
PEAS PESTO PASTA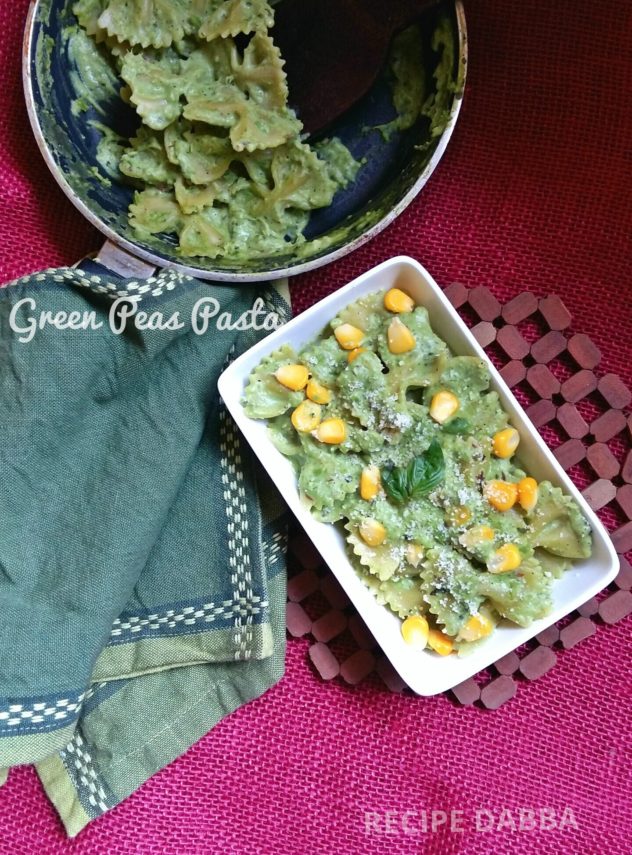 Serves 2
Ingredients
Fresh Peas: 1 cup
Garlic: 1 tbsp
Basil leaves: 4-5
Green chilli: 1
Olive oil: 1 tsp
Almonds: 7-8
Milk: 1/2cup
Cheese: 1 tsp
Black pepper: 1/2 tsp
Pasta seasonings: 1/2 tsp
Boiled corn: 1/2 cup
Salt: as per taste
Instructions
Heat 12 tsp oil and saute garlic and then add peas and cook with some salt and green chillies.
One its done add cooked green peas to a food processor with basil leaves, some more garlic, salt, almonds and some olive oil and make a fine paste.
Cook Pasta in boiling water until almost done.
Take a pan and stir fry boiled corns and add pesto paste.
Some milk to cook it as a sauce and then add pasta.
Add seasonings, black pepper and some cheese before serving it with garlic bread.
HARA BHARA UTTAPAM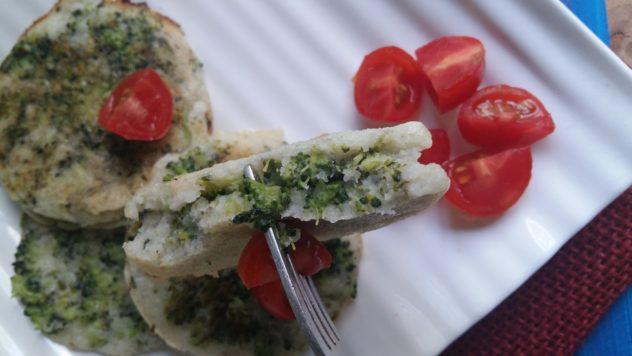 Serves 2
Prep Time
Ingredients
1. Dosa Batter: 4-5 cups
2. Broccoli: 1/2 cup blanced & grated
3. Garlic: 2 cloves
4. Basil leaves: 10
5. Garlic powder: 1/2 tsp
6. Black pepper: 1/2 tsp
7. Salt: as per taste
8. Pasta seasonings: 1/2 tsp
9. Olive oil: 1 tsp
Instructions
1. Make a paste of basil leaves, garlic, salt and olive oil.
2. Heat 2 drops of oil and cook broccoli along with the basil paste.
3. Spread the batter on an uttapam pan and add the broccoli on top and cook covered.
4. After 2 mins flip it and cook.
GREEN AND RED VEGETABLE ROLL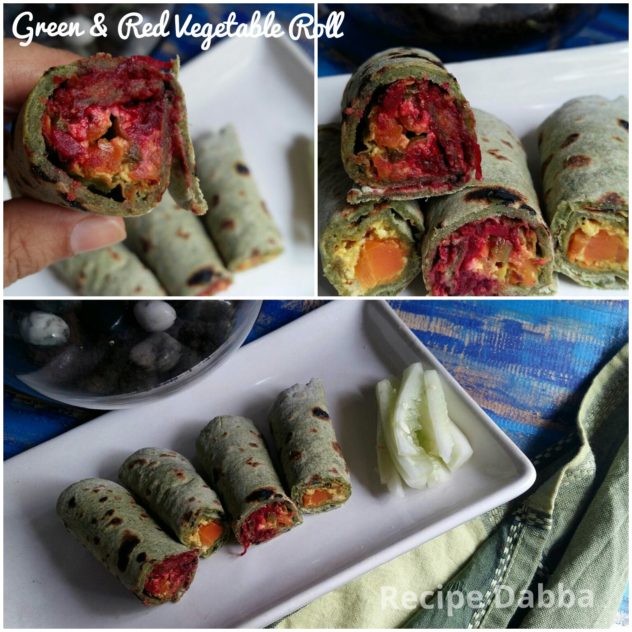 Serves 2
Ingredients
Whole wheat flour: 1 cup
Spinach puree: 3 tbsp
Beetroot: 2 tbsp boiled and grated
Garlic: 1 tsp chopped + 1 tsp grated
French beans: 2 tbsp chopped
Carrot: 2 tbsp chopped
Paneer: 2 tbsp grated
Kitchen king masala: 1/2 tsp
Lemon juice: 1 tsp
Milk: 1/4 cup
Curd: 2 tbsp
Oil: 1/2 tsp
Salt: as per taste
Instructions
Cook beetroot with some garlic and a drop of oil in a pan and add some salt and keep aside.
Now knead the flour with salt, curd, garlic paste and puree and cover it and keep aside.
Heat oil in a pan and saute few garlic pieces and then add vegetables to cook with some salt and kitchen king masala.
Once its done add grated paneer and some milk and let it cook evenly for few minutes.Add lemon juice and let it cool down,
Now make a roti out of spinach dough and cook both sides.
Evenly spread the beet spread and then keep the vegetables on one side and roll it tightly.
Its ready to be served as you enjoy the fulfilling nutrition in your favourite roll.
Rakshita has a treasure trove of such healthy recipes. For more such yummy recipes visit www.recipedabba.com/cookbook
Please share, like and comment. It keeps us going 🙂